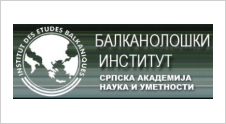 Institute for Balkan Studies
The precursor of the present-day Institute for Balkan Studies was the Balkan Institute, founded in Belgrade in 1934 as the only such institution in the Balkans at the time. The initiative for its establishment came from King Aleksandar I Karađorđević. Ratko Parežanin and Svetozar Spanaćević were entrusted with the organization of the institution. The Institute published the journal, Revue internationale des Etudes balkaniques, which featured contributions by the most prominent European experts on the Balkans. The Institute was abolished in 1941 by order of the German occupation authorities
It was restored as late as 1969 under the name of Institute for Balkan Studies, as a division of the Serbian Academy of Sciences and Arts. The Institute comprised a team of eminent scholars specializing in the Balkans from its prehistory to modern times, who conducted archaeological, anthropological, ethnographic and historical research and studied Balkan culture, art, literature, common law, etc. This multidisciplinary approach has remained a lasting scholarly orientation of the Institute.
In all fields, the Institute has developed international cooperation with a large number of institutions in European countries and has organized several dozen international conferences. The institute publishes the annual journal Balcanica and the series Posebna izdanja (Special Editions) covering all areas of Balkan studies.
The Institute conducts its research through six special projects:
Medieval Heritage of the Balkans: Institutions and Culture;
The Danube and the Balkans: Cultural and Historical Heritage;
History of Political Ideas and Institutions in the Balkans in the 19th and 20th Centuries;
Society, Spiritual and Material Culture and Communications in the Balkans in Prehistory and Early History;
Folk Culture of the Serbs Between East and West; and
Language, Folklore and Migrations in the Balkans.
Twenty-nine of the 35 associates are scholars, whereas six are members of the administrative staff. The Institute has six principal research fellows, four senior research associates, nine research associates, eight research assistants, and two research trainees.
External associates are also involved in the Institute's projects: two academicians, 16 university professors, six research associates receiving stipends, as well as several foreign scholars.
Every year, the Institute publishes several monographs and collections of papers. Particularly significant publications in the past dozen years have included numerous monographs and collections of papers in world languages, primarily English and French, from the fields of history, archaeology, linguistics, art history and literature. Since 2005, the annual journal Balcanica has been featuring contributions exclusively in English and French.