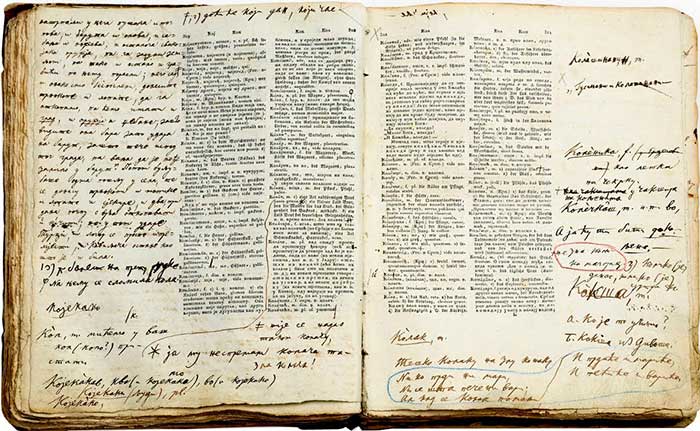 Vuk Stefanović Karadžić's library
The Library of the Serbian Academy of Sciences and Arts houses Vuk Karadžic's personal library, consisting of 49 titles (55 copies). This represents everything kept of Vuk's personal books. He came to Vienna with twenty-some books, and when he died there were 1,300 titles. In the mid 19th century, it was an extensive private library. After Vuk's death, his son Dimitrije sold the majority of books to the Academy of Sciences in Saint Petersburg. A part of the library, brought from Vienna to Belgrade in 1894, consisted of around 360 titles: approximately 60 manuscripts from 14 – 19th centuries, letters and other documents from the Serbian past, around 30 maps, atlases and sketches, around 60 lithographs, the late 15th century printed books (Obod printing), 20 srbulja, around 50 books from the 18th century. The most valuable books and manuscripts were handed over to the National Library; multiple copy titles were donated to the State Printing House, libraries and bookstores; the book which Vuk had written and those talking about him were given to the National Museum for Vuk's room and those with Vuk's records were handed to the Vuk's board which was to study Vuk's work. Out of all books from Vuk's personal library, only 49 titles (55 copies) were preserved at the SASA Library, 'Srpski rječnik' of 1852 situated at the SASA Archives, a part of the same 'Rječnik' is in the Museum of Vuk and Dositej while 'Galletti's Handbook on Geography', which had belonged to the Geographical Institute at the National Library.
The following record enumerates the books stored at the SASA Library and presents snapshots of interesting pages from those books.
| | |
| --- | --- |
| Rv 1 | Правителствујушчиј совјет сербскиј за времена Кара-Ђорђијева / Караџић, Вук Стефановић |
| Rv 2 | Примјери српско-славенскога језика / Караџић, Вук Стефановић |
| Rv 3 | Српске народне пјесме. Књ. 2 / Караџић, Вук Стефановић |
| Rv 4 | Писменица сербскога језика / Караџић, Вук Стефановић |
| Rv 5 | Вуков одговор на Утук г. М. Светића / Караџић, Вук Стефановић |
| Rv 6 | Вука Стеф. Караџића и Саве Текелије Писма високопреосвештеноме господину Платону Атанацковићу, православноме владици будимскоме о правопису, са особитијем додацима о српском језику |
| Rv 7 | Nekoliko rječih o pravopisu / Babukić, Vjekoslav |
| Rv 8 | Coup d'oeil sur la litterature moderne des Serbes / [Ristić, Jovan] |
| Rv 9 | Речник географијско-статистични Србије / Гавриловић, Јован |
| Rv 10 | Geschaeftsordnung der kaiserlichen Akademie der Wissenschaften (1847) |
| Rv 11 | Glas hercegovačke vile turcima [!], Bošnjacim i Hercegovcima na novu godinu 1862. |
| Rv 11a | Глас херцеговачке виле |
| Rv 12 | Боснија : путевија заметки : (писма к А.С. Хомјакову). III, V, X-XV / Гил'фердинг, Александр Федорович |
| Rv 13 | Kleine serbische Grammatik / Karadžić, Vuk Stefanović |
| Rv 14 | Der Serbe und seine Poesie / Ignjatović, Jakov |
| Rv 15 | Leipziger Allgemeine Zeitung (1837) |
| Rv 16 | Литература славјанских народов / Кеппен, Петр Иванович |
| Rv 17 | Вук Стефанович Караджич / И.И. Срезневскиј // Московскиј литературниј и учениј сборник (1846) |
| Rv 18 | Народне србске приповедке. Св 1,2 / Николић, Атанасије |
| Rv 19 | Лазарице или Догађаји за времена кнеза Лазара / Новић-Оточанин, Јоксим |
| Rv 20 | Век болгарскаго царја Симеона / Палаузов, Спиридон Николаевич |
| Rv 21 | Reise in Serbien im Spaetherbst 1829. Th. 2 / Pirch, Otto von |
| Rv 22 | Вук Стефановић Караџић / Розен, Михаило |
| Rv 23 | Беседа на опелу др-а Вука Стеф. Караџића / Сандић, Александар |
| Rv 24 | Утук или Одговор на Одговор на Ситнице језикословне … / Хаџић, Јован |
| Rv 25 | Краткаја россијскаја историја … / Строев, Павел М. |
| Rv 26 | Volkslieder der Serben / Karadžić, Vuk Stefanović |
| Rv 27 | Volksmaerchen der Serben / Karadžić, Vuk Stefanović |
| Rv 28 | Србски споменици Млетачког архива (1862) |
| Rv 29 | Gruendung der Akademie der Wissenschaften |
| Rv 30 | Koenigreich Illyrien [kartografska građa] / Mollo, Tranquillo |
| Rv 31 | Karte von der Europaeischen Tuerkey [kartografska građa] / Mollo, Tranquillo |
| Rv 32 | Об отношениј јазика славјанскаго к јазикам родственим / Гил'фердинг, Александр Федорович |
| Rv 33 | Die Christen in der Tuerkei / Denton, William |
| Rv 34 | Приправа за историју свега свијета ради дјеце. Књ. 1 / Schloezer, August Ludwig von |
| Rv 35 | Недjељко : народна пjесма јуначка / Утјешеновић-Острожински, Огњеслав |
| Rv 36 | Grammatik der illirischen Sprache, wie solche in Dalmatien, Kroatien, Slawonien, Bosnien, Serbien, und von den Illiriern in Ungarn gesprochen wird / Brlić, Ignjat Alojzije |
| Rv 37 | В. Лазићу II и још којешта / Даничић, Ђуро |
| Rv 38 | Arkiv za povjestnicu jugoslavensku. Knj. 4 |
| Rv 39 | Лукиана Мушицког Стихотворенија. Кн. 3 |
| Rv 40 | Pripovitke iz Starog i Novog zakona |
| Rv 41 | Забаве за разум и срце. Кн. 3 / Стејић, Јован |
| Rv 42 | Slavische Blatter (1865-1866) |
| Rv 43 | Slovanske starožitnosti. Dil 1,2 /Šafarik, Pavel Josef |
| Rv 44 | Almanach der Kaiserlichen Akademie der Wissenschaften (1852) |
| Rv 45 | Poésies populaires serbes / [preveo] Dozon, August |
| Rv 46 | Српски рјечник / Караџић, Вук Стефановић |
| Rv 47 | Wlastencum narodnj našj milownym od Zboru musegnjho pro reč a literaturu českau [1841] |
| Rv 48 | Вуков пријевод Новога завјета / Даничић, Ђуро |
| Rv 49 | Требник (1821) |